All Topics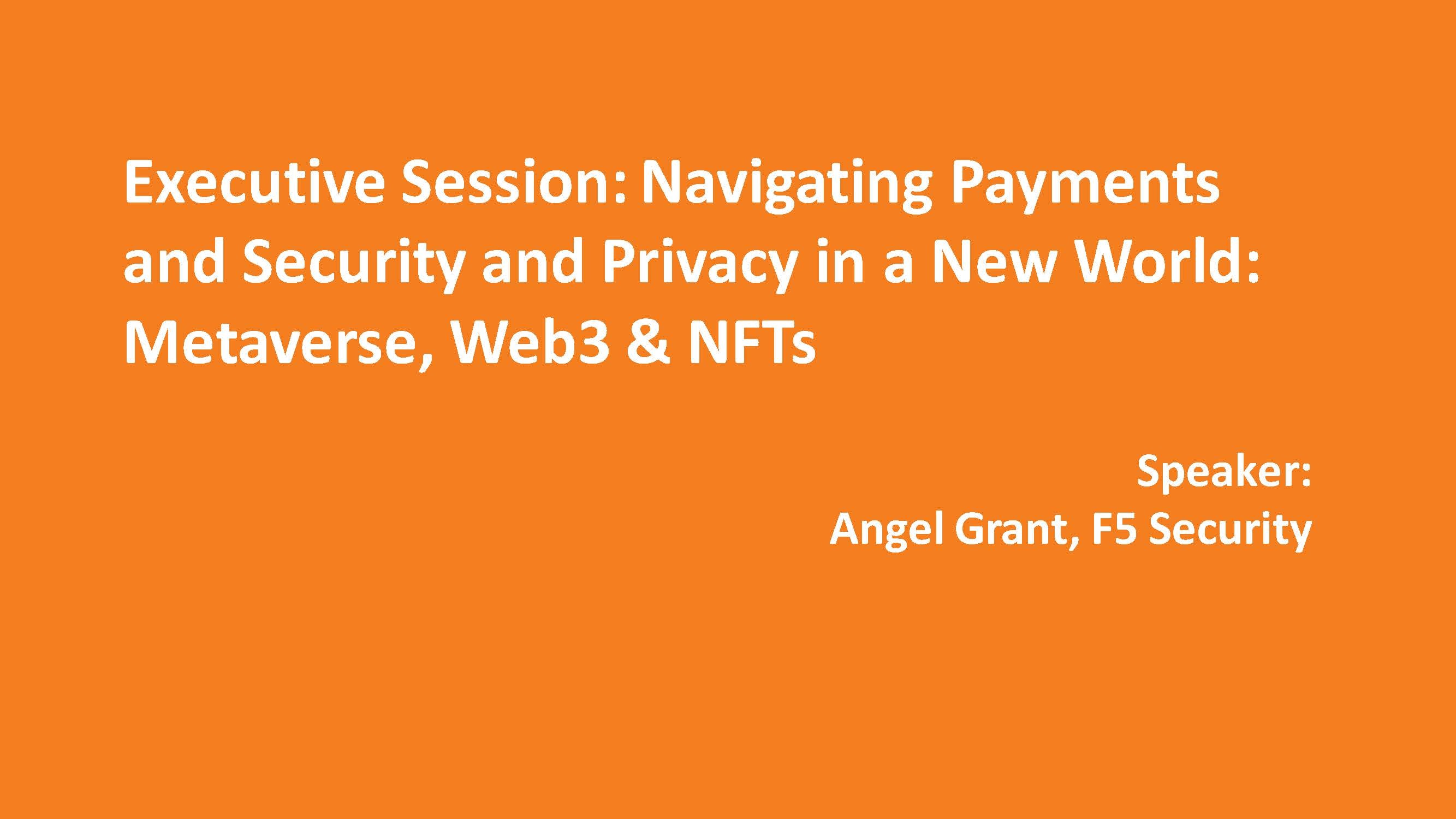 Navigating Payments Security and Privacy in the New World: Metaverse, Web3 & NFTs
The speaker in this session provides listeners with a "survival kit" for how to successfully navigate and take advantage of new opportunities.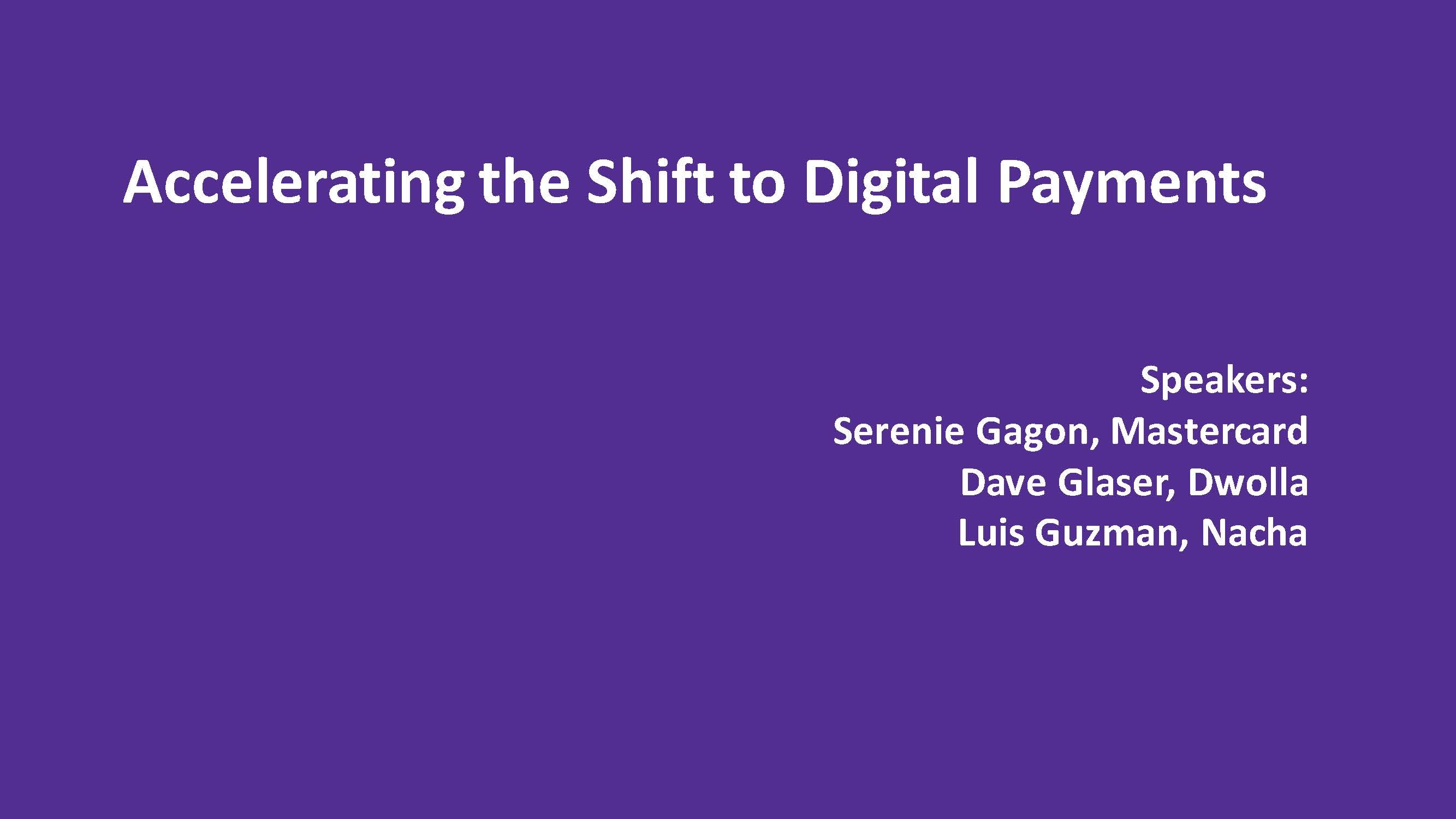 Accelerating the Shift to Digital Payments
This discussion explores the motivations behind the momentum toward digital payments and how considerations such as security, convenience, flexibility and control are directing the digital money revolution.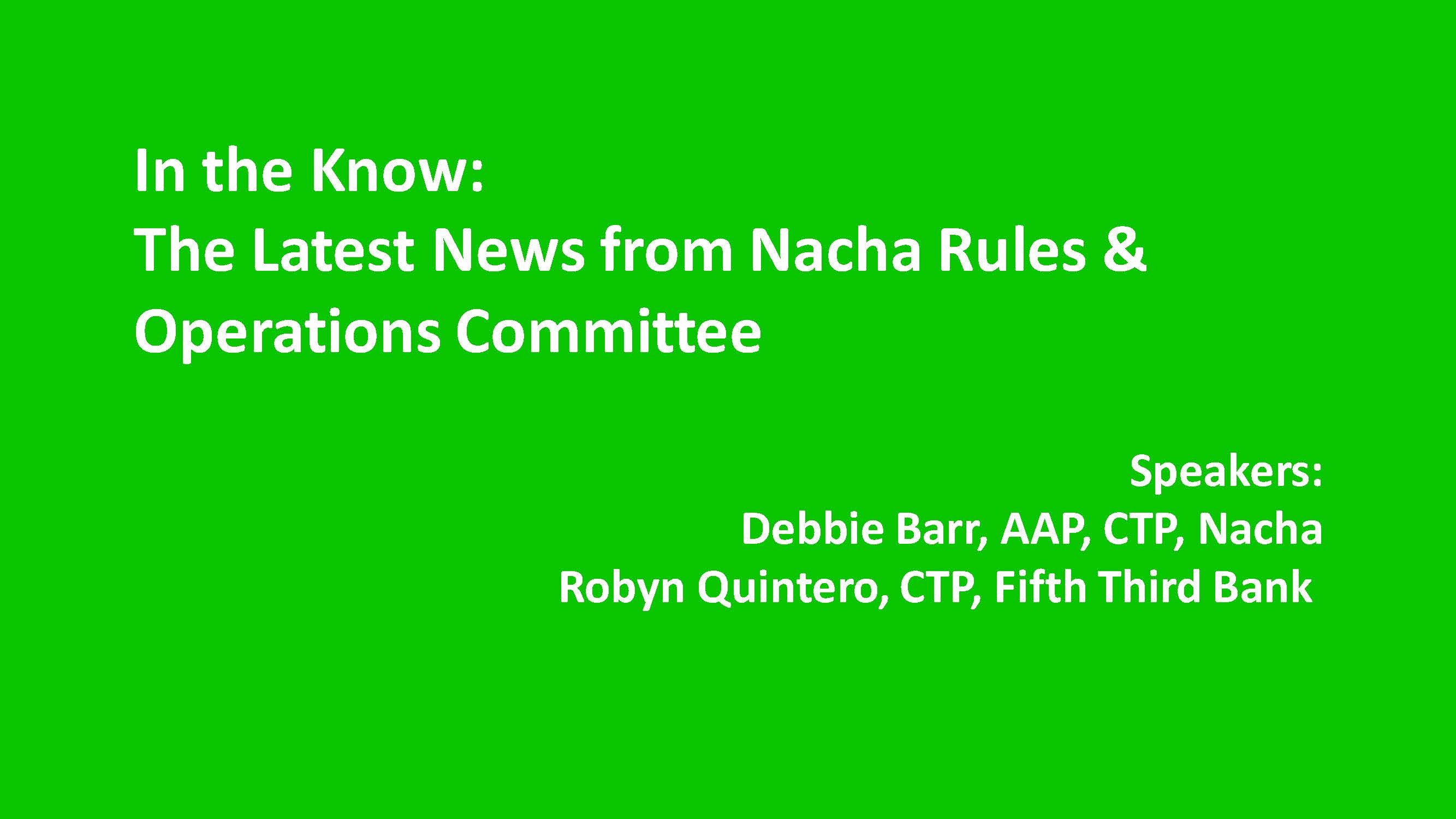 In the Know: The Latest News from the Nacha Rules & Operations Committee
Hear about the latest ACH Rules initiatives and what they mean for your organization. Whether you are a financial institution or a corporate treasury practitioner, this session will prepare you to position your organization for the future of the ACH Network. Speakers discuss the most current rules initiatives and what they mean to their organizations, the industry, and more importantly, to you and your organization.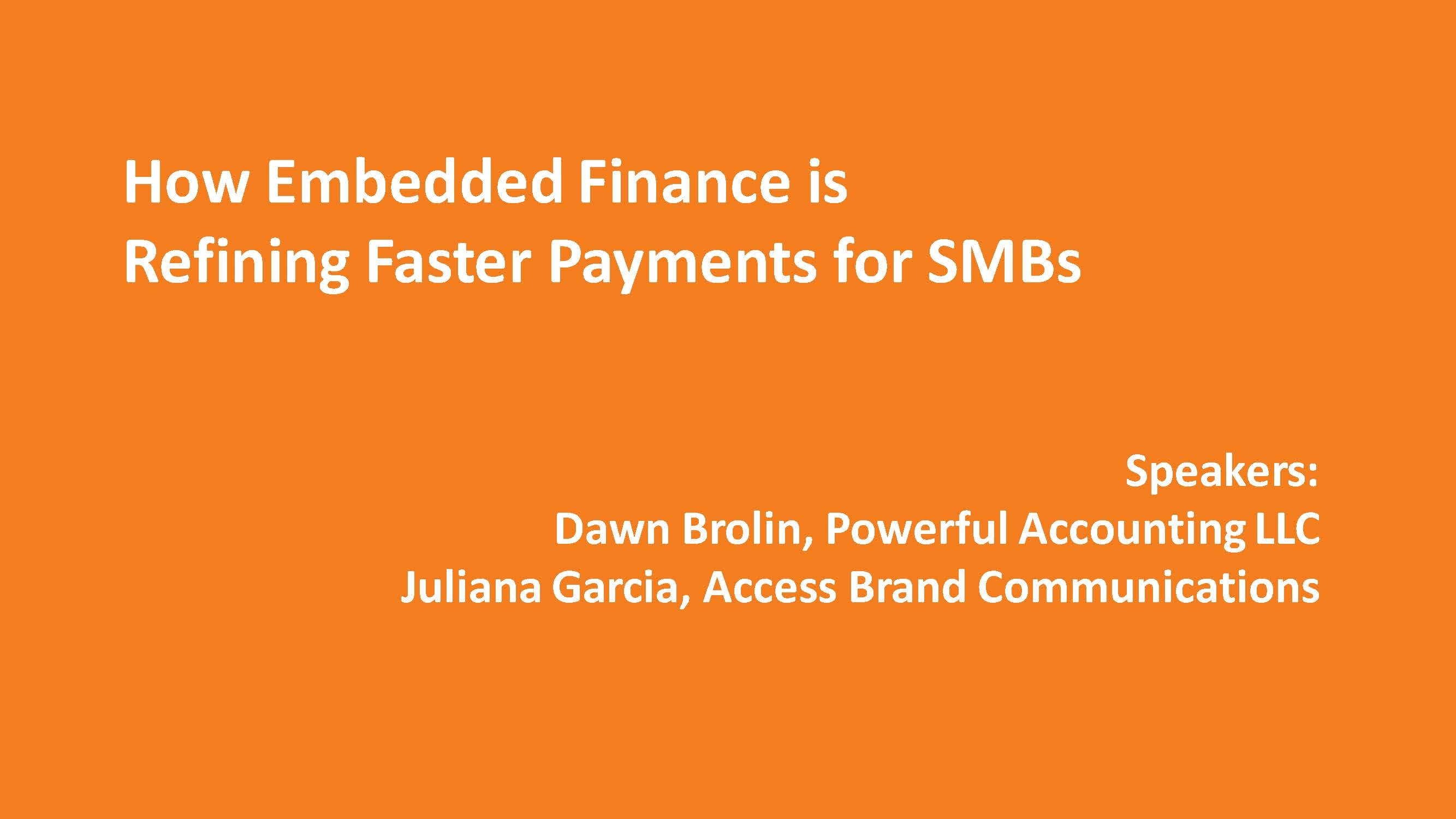 How Embedded Finance is Redefining Faster Payments for SMBs
Speakers on this session provide an overview of the opportunities the payments industry can unlock with embedded finance and how it can fuel not only a smarter and faster, but more integrated and impactful payments experience. Additionally, speakers will share real world examples of small business customers, their unique payments needs and how payments/embedded finance leaders can solve these problems to drive the success rate of small businesses holistically.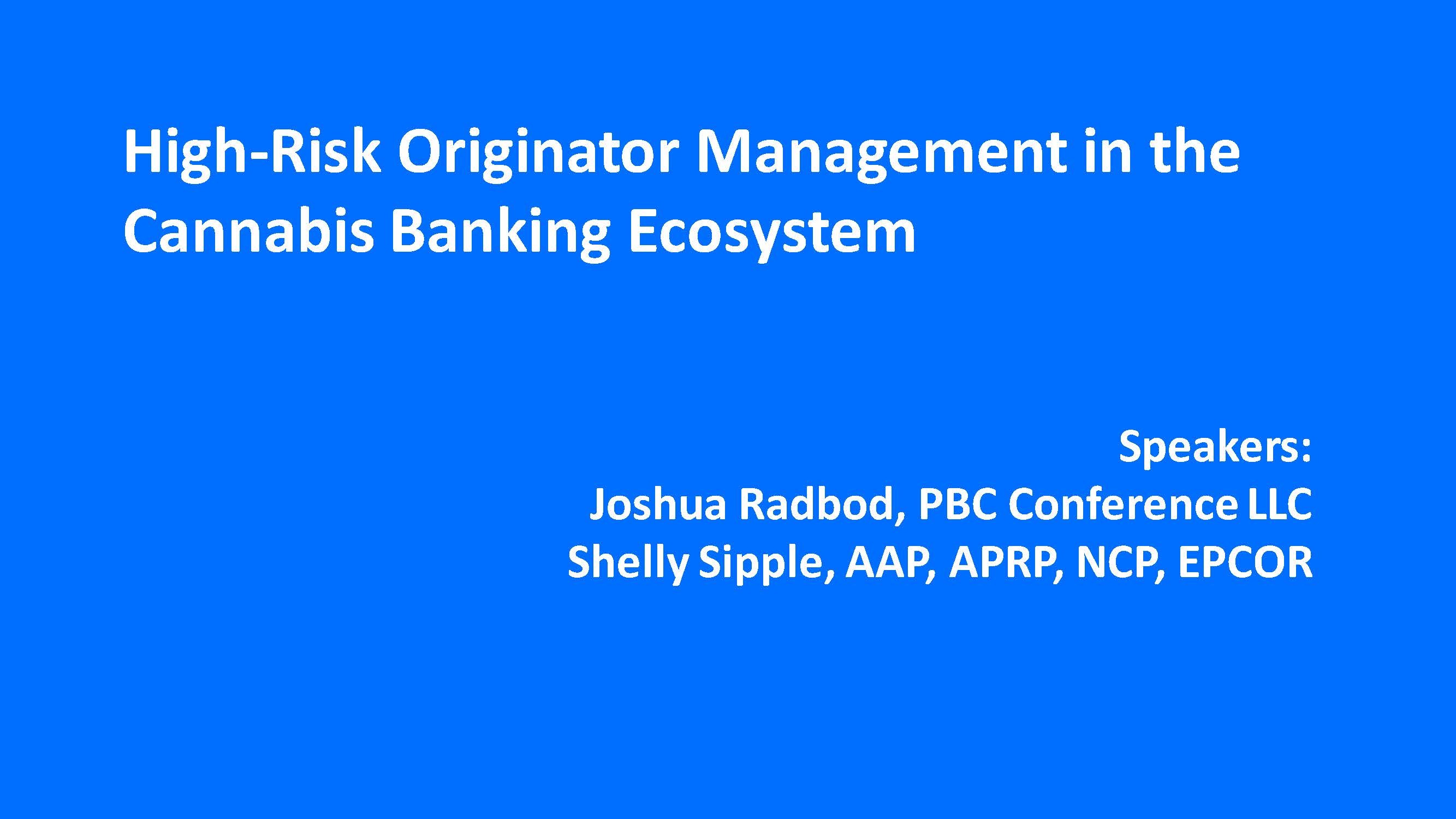 High-Risk Originator Management in the Cannabis Banking Ecosystem
Listeners will gain understanding of the cannabis banking ecosystem, the roles of various partners in the system, and how a financial institution can manage its risk related to onboarding new clients.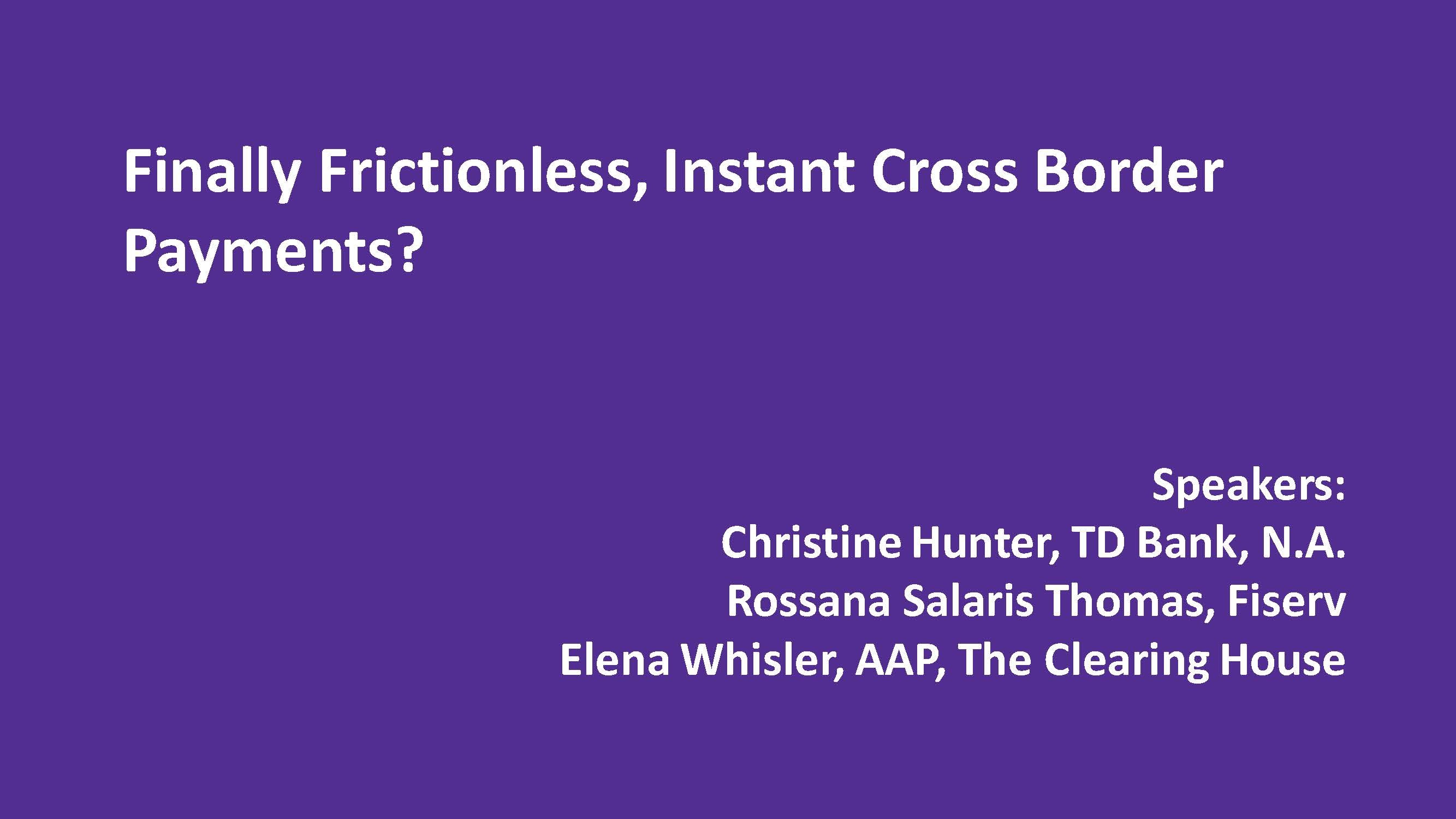 Finally Frictionless, Instant Cross Border Payments?
We're about to see a paradigm shift, building on domestic real-time payment structures and interconnectivity of these promises to bring the benefits of speed, availability, finality and consistency to cross-border payments. Speakers in this session will review this shift and explore how lessons learned can drive change.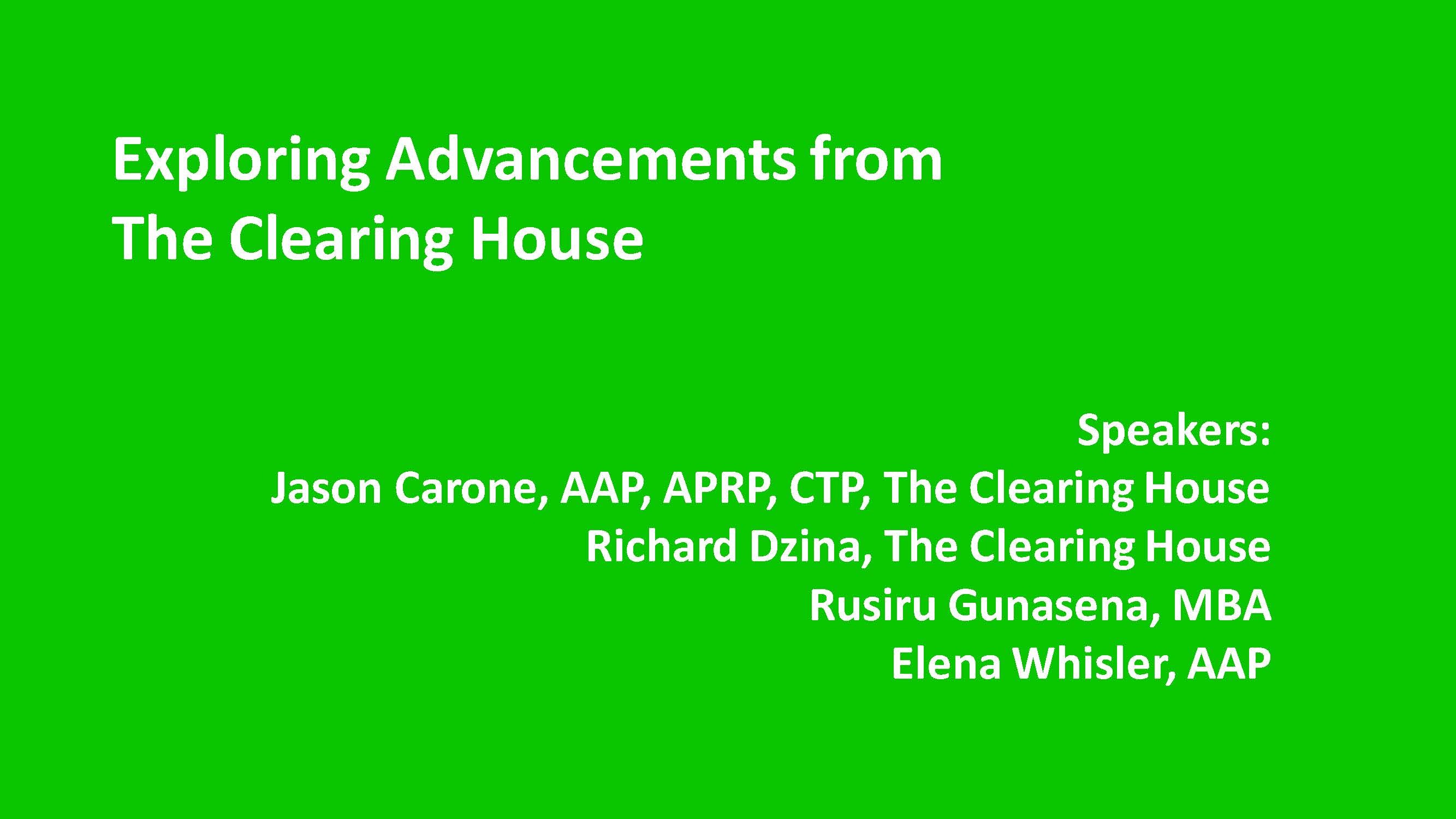 Exploring Advancements from The Clearing House
Speakers share developments and priorities from payments networks RTP, EPN, CHIPS and SVPCO check image exchange.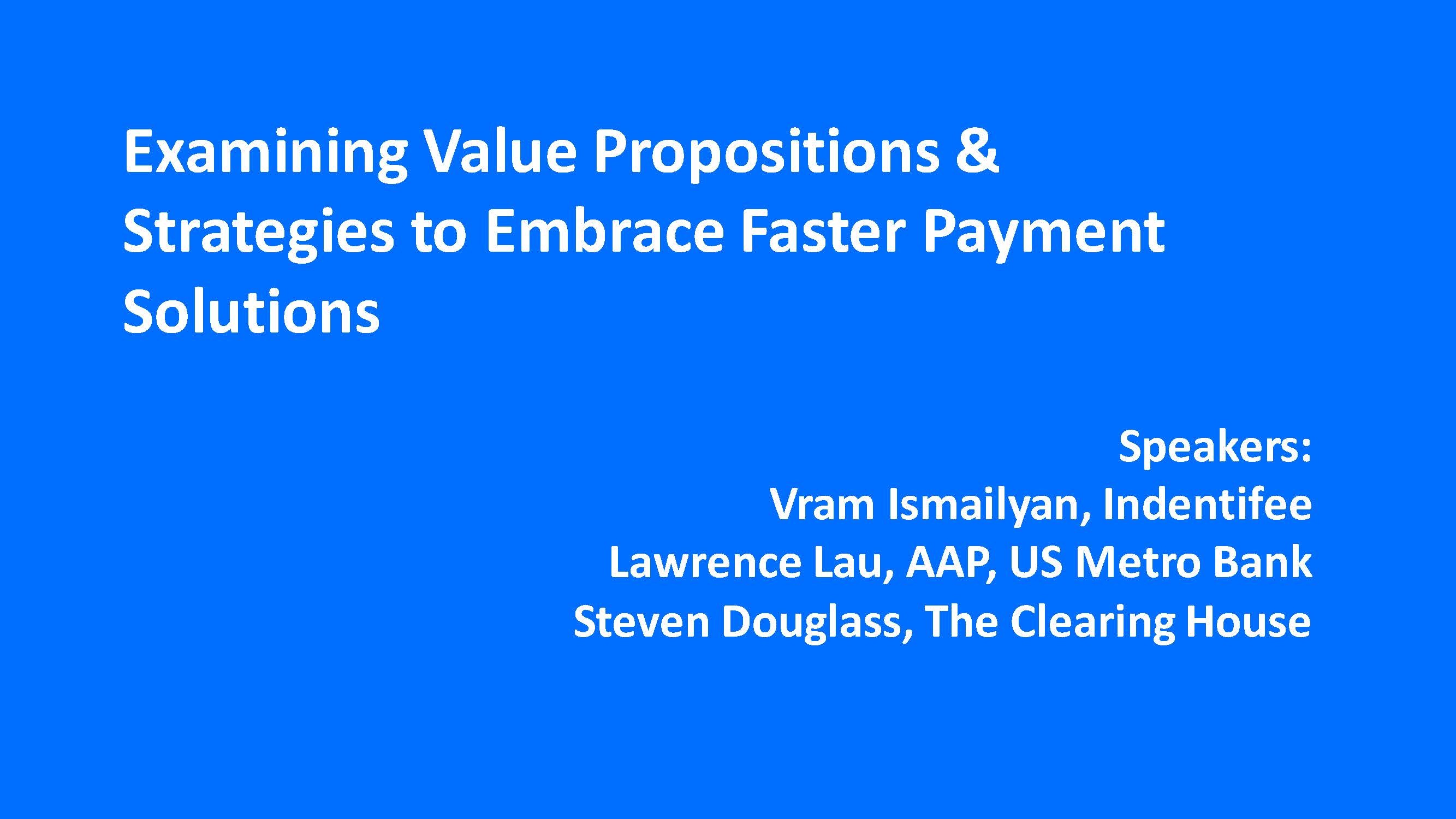 Examining Value Propositions & Strategies to Embrace Faster Payment Solutions
Speakers in this session recount their experience exploring the benefits of offering faster payments and how a decision was made to embrace these products.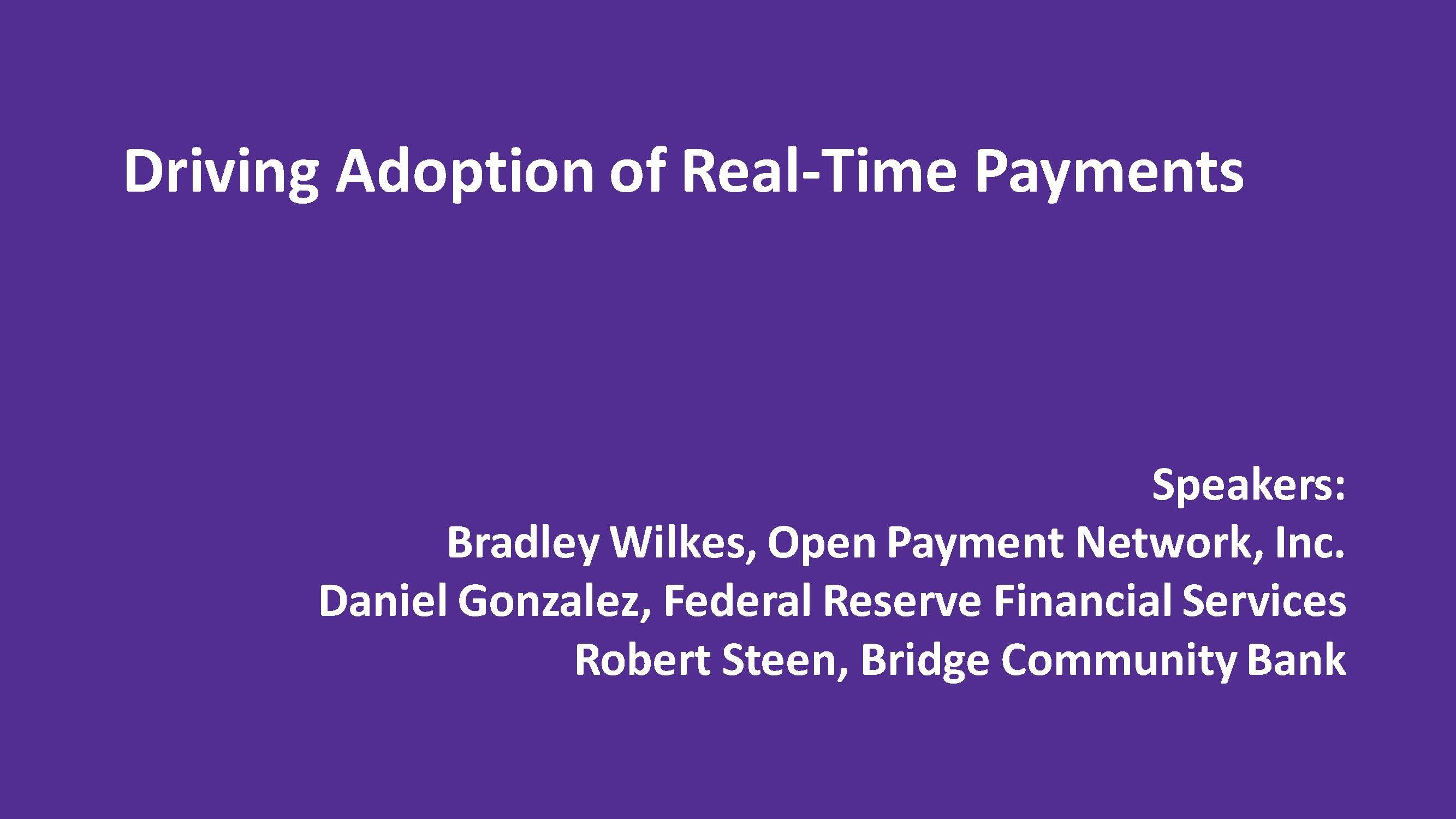 Driving Adoption of Real-Time Payments
Listeners come away from this session with hints on how to develop a strategy and related technology to meet customer expectations and gain a foothold with their instant payments offerings.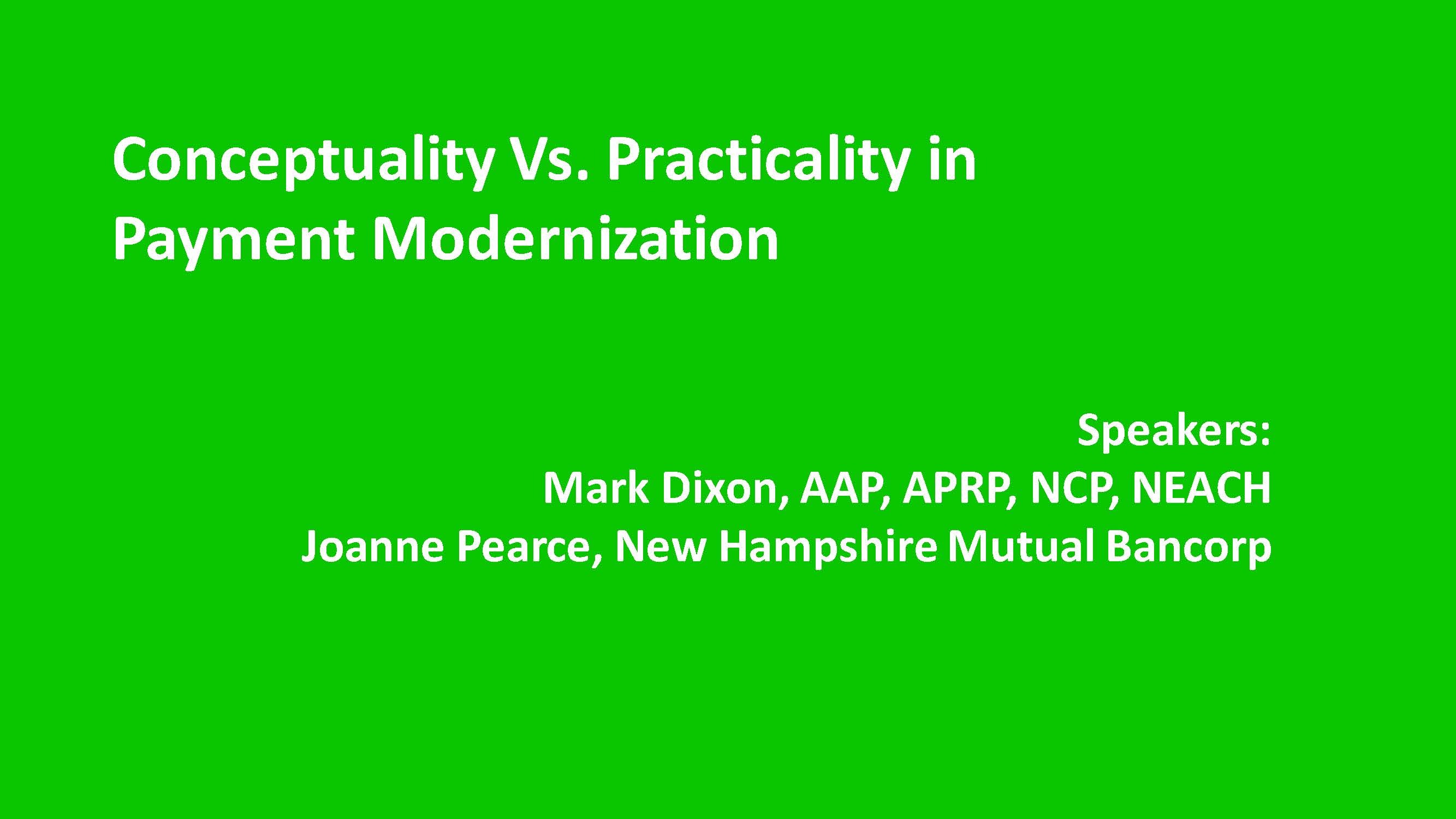 Conceptuality Vs. Practicality in Payment Modernization
In this session, speakers engage in a lively discussion on payment modernization hot topics and counter industry expectations vs. pragmatism.
| Access Date | Quiz Result | Score | Actions |
| --- | --- | --- | --- |
Already a Subscriber? Log In Now